MUSIC MONDAYS: ATRIUM ANIMAE and Seventh Harmonic
THE WILD HUNT [JULY 2011]
by Jason Pitzl-Waters

2011 | JULY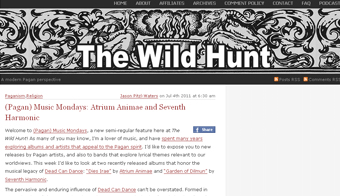 Welcome to (Pagan) Music Mondays, a new semi-regular feature here at The Wild Hunt! As many of you may know, I'm a lover of music, and have spent many years exploring albums and artists that appeal to the Pagan spirit. I'd like to expose you to new releases by Pagan artists, and also to bands that explore lyrical themes relevant to our worldviews.
This week I'd like to look at two recently released albums that honor the musical legacy of Dead Can Dance: "Dies Irae" by Atrium Animae and "Garden of Dilmun" by Seventh Harmonic.
The pervasive and enduring influence of Dead Can Dance can't be overstated. Formed in 1981, the duo of Lisa Gerrard and Brendan Perry created a body of work that has literally shaped genres and created a musical touchstone that is still inspiring new bands to form. Outside of their ardent fanbase, few may recognize how important Dead Can Dance are, or how deep their influence has been. In the United States, Lisa Gerrard is probably more famous as the genesis of "exotic-sounding, ululating female singers" found in so many epic films these days than anything else. Yet their sound, which has ranged from stark minimalist post-punk to vibrant world fusion, has launched a thousand bands. They are the Velvet Underground of Neoclassical Darkwave. This year two bands, Atrium Animae and Seventh Harmonic, have released new albums that spring from their influence and legacy.
The Italian band Atrium Animae was formed in 2007, their name is "considered as a symbolic representation of the passage from physical world toward an immaterial world.".
The heavenly soprano of Alessia Cicala, a member of the band Chirleison, partnered with the compositions of Massimiliano Picconi, together create music on their debut "Dies Irae" that is stately in its atmosphere, a sacred enveloping that is almost funerial in outlook.
Or as the band's promotional material puts it: "A symbolic voyage in a silent wasteland made of treachery, defeat and spiritual hunger. A world where the locked embrace of loss and despair are represented through a reinterpretation of passages taken from religious and pagan texts."
While Atrium Animae is a new band, Seventh Harmonic formed back in 1999. But seeing how it has been eight years since their last full-length release, "Promise of Sacrifice," and now features a new lead vocalist, Ann-Mari Thim of Arcana, you could convincingly argue that this is a new start for the project that composer Caroline Jago helped co-found. "Garden of Dilmun" shares a lot of sonic territory with Atrium Animae, and its hard to not compare the powerful sopranos of Thim and Cicala, but Seventh Harmonic has a different agenda and explores different themes ("the muses, the wheel of the year, and the seasons of the heart") which help gives the work its own agenda. Of special note is how Jago weaves in a variety of drum sounds, from martial to tribal, in order to give each track a distinctive texture.
Both "Dies Irae" and "Garden of Dilmun" should please any Dead Can Dance fan, taking inspiration from the duo's body of work, while each make that sound their own. Atrium Animae and Seventh Harmonic join bands like Rajna, Íon, Ataraxia, and Hexperos in navigating the rich sonic territory first pioneered by Perry and Gerrard.
Atrium Animae's "Dies Irae" can be downloaded from Amazon or iTunes or CD can be ordered from Projekt Records. "Garden of Dilmun" is also available for download at Amazon and iTunes, or a CD can be ordered from Out of Line in Europe or IsoTank in the Untied States.
With all this talk of legacy and influence, I think it should be noted that both of the component parts of Dead Can Dance, Brendan Perry and Lisa Gerrard, released albums in 2010, with more on the way. In addition, according the Brendan Perry, 2012 will see a new album and tour from the band, their first album of new material since 1996′s "Spiritchaser".
"I have been talking with Lisa Gerrard this past week with regard to recording a new DCD album this coming winter. We hope to complete the album by the summer of 2012 and then embark on an extensive two month world tour in late 2012. I will be posting updates from time to time with regard to our progress…… and remember… you heard it here first and yes it is official!"
So if all goes well we'll be talking about a new Dead Can Dance album this time next year! It should be interesting to see what direction they go in next, and how their new material will ripple outward to the many who've taken inspiration from Dead Can Dance's albums.
That's it for this week's (Pagan) Music Mondays! I hope you enjoyed it.
Tags: Atrium Animae, Brendan Perry, Dead Can Dance, Lisa Gerrard, music, Pagan Music Mondays
[BACK]