[ITALIANO]
REVIEW: ATRIUM ANIMAE - DIES IRAE
CARPE NOCTURNE MAGAZINE
[VOL.6 N.3, FALL 2011, UK]
2011 | FALL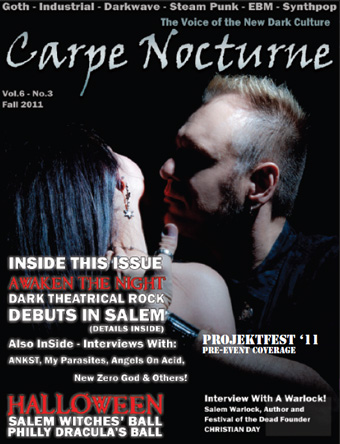 | Read or Download the PDF here: Carpe Nocturne Magazine
Atrium Animae: 'Dies Irae' - CD Review
by Detlef Von Sireck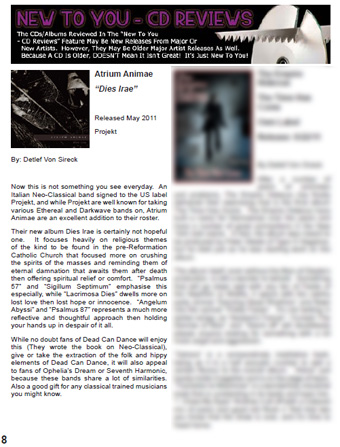 Now this is not something you see everyday.
An Italian Neo-Classical band signed to the US label Projekt, and while Projekt are well known for taking various Ethereal and Darkwave bands on, Atrium Animae are an excellent addition to their roster.
Their new album Dies Irae is certainly not hopeful one.
It focuses heavily on religious themes of the kind to be found in the pre-Reformation Catholic Church that focused more on crushing the spirits of the masses and reminding them of eternal damnation that awaits them after death then offering spiritual relief or comfort.
"Psalmus 57" and "Sigillum Septimum" emphasise this especially, while "Lacrimosa Dies" dwells more on lost love then lost hope or innocence. "Angelum Abyssi" and "Psalmus 87" represents a much more reflective and thoughtful approach then holding your hands up in despair of it all.
While no doubt fans of Dead Can Dance will enjoy this (They wrote the book on Neo-Classical), give or take the extraction of the folk and hippy elements of Dead Can Dance, it will also appeal to fans of Ophelia's Dream or Seventh Harmonic, because these bands share a lot of similarities.
Also a good gift for any classical trained musicians you might know.
ATRIUM ANIMAE | DIES IRAE [OFFICIAL TRAILER]
ATRIUM ANIMAE | REX GLORIAE [OFFICIAL]
[BACK]