REVIEW: ATRIUM ANIMAE - DIES IRAE
FEARNET [JUNE 2011]

2011 | JUNE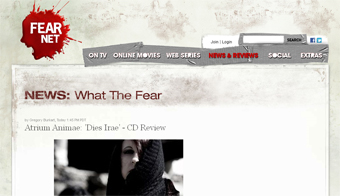 FEARnet is a cable channel, website and Video on Demand television service owned by Horror Entertainment LLC, a joint venture between Comcast, Lions Gate Entertainment, and Sony Pictures Entertainment.
Atrium Animae: 'Dies Irae' - CD Review
by Gregory Burkart
Projekt Records are known worldwide for their exotic repertoire of darkwave, gothic, atmospheric, ethereal and dark pop artists, and I've reviewed a wide assortment of those talents on these pages. One of the more haunting albums to emerge from Projekt's camp lately is the Italian duo Atrium Animae, whose beautifully spooky sound returns in the form of their debut album Dies Irae. Turn the page for a mini-review of this ghostly creation...
The group's name is loosely translated from Latin as "The Gate of the Soul" – lining up perfectly with their sound, which calls to mind mystic rituals conducted by moonlight. The team of Massimiliano Picconi (instruments) and Alessia Cicala (vocals) draw heavily on elements of Renaissance-era spiritual music and both modern & classical composers, tying the elements together with cinematic sound design and production. I'd say it falls within the same genre lines of legendary exotic-music artists Dead Can Dance, and the awesome Swedish group Arcana.
One of the coolest techniques used on Dies Irae is the intricate layering of vocals, blending multiple tracks of Cicala's operatic voice and weaving it together with different ranges of male vocals. Combined with slow, epic waves of brass and strings, the resulting effect feels like a black cloud passing over a cathedral. No accident that the album's title is taken from an ominous Latin hymn describing the Day of Judgment, and if you've seen Stanley Kubrick's The Shining, you know the tune I mean (although it's not used here). As you can probably guess, this music could take you to a very dark place.
From the dark ambient opening of "Psalmus 57" (most of these tracks open with a similar throbbing pulse) to the gothic bell-tower echoes of "Lacrimosa Dies," there's a sense of impending doom creeping through these seven tracks, especially in the droning chants of "Signum Iudicii," the shuddering strings of "Sigillum Septimum" and the nightmarish climax of "Angelum Abyssi" (Angel of the Abyss). It all comes together to form an image of the Apocalypse, painted with broad, dark strokes.
If you've got a taste for haunting atmospheres and epic soundscapes of doom, Dies Irae is one blood chilling chill-out record. It's available from Projekt Records on June 14th, and you can check out a trailer here...
[BACK]