REVIEW: ATRIUM ANIMAE - DIES IRAE
GLASSWERK.CO.UK [JUNE 2011]

2011 | JUNE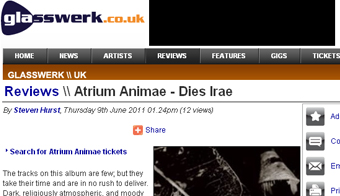 Atrium Animae: 'Dies Irae' - CD Review
by Steven Hurst
The tracks on this album are few; but they take their time and are in no rush to deliver. Dark, religiously atmospheric, and moody beyond your gloomiest dreams; the choral work from the two main vocal artists is very impressive and the classical music is some of the best in terms of mood.

Opening with a slowly pounding mood setter Psalmus 57, the overlapped Latin vocal work is quite spellbinding. But the male vocal work that joins on the second track Rex Gloriae is quite extraordinary. Rex Gloriae is an even slower burner, but it has commanding brass playing over troubled strings creating quite a heavy effect.

The album although only seven tracks long does feel like it is retreading its steps occasionally in places. With that in mind the work would make excellent soundtrack accompaniment to a visceral epic. But it isn't repetitive, just stays close to home for its duration. Don't expect sudden twists or turns out of the formula they have created.

Massimiliano Picconi and leading lady Alessia Cicala have crafted quite the art form out of their work. It is more in depth listening experience, that simply treasure for pleasure.
[BACK]