REVIEW: ATRIUM ANIMAE - DIES IRAE
GOTHIC PARADISE [JUNE 2011]

2011 | JUNE
RATING: 4.5/5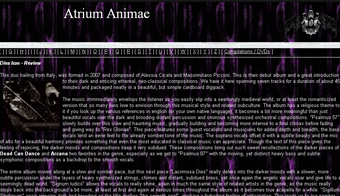 This duo hailing from Italy, was formed in 2007 and composed of Alessia Cicala and Massimiliano Picconi. This is their debut album and a great introduction to their dark and enticing ethereal, neo-classical compositions. We have it here spanning seven tracks for a duration of about 45 minutes and packaged neatly in a beautiful, but simple cardboard digipack.

The music immmediately envelops the listener as you easily slip into a seemingly medieval world, or at least the romanticized version that so many fans love to envision through this musical style and related subculture.
The album has a religious theme to it if you look up the various references in english (or your own native language), it becomes a bit more meaningful than just beautiful vocals over the dark and brooding distant percussion and ominous synthesized orchestral compositions. "Psalmus 57" slowly builds over this slow and haunting music, gradually building and becoming more intense to a final climax before fading and giving way to "Rex Gloriae". This piece features some guest vocalists and musicians for added depth and breadth, the bass vocals lend an eerie feel to the already somber tone of the music. The soprano vocals offset it with a subtle beauty and the mix of alto for a beautiful harmony provides something that even the most educated in classical music can appreciate. Though the text of this piece gives the feeling of rejoicing, the darker moods and compositions keep it very subdued. These compositions bring out such sweet recollections of the darker pieces of Dead Can Dance and Arcana two favorites in the genre, especially as we get to "Psalmus 87" with the moving, yet distinct heavy bass and subtle symphonic compositions as a backdrop to the smooth vocals.

The entire album moves along at a slow and somber pace, but this next piece "Lacrimosa Dies" really delves into the darker moods with a slower, more subtle percussion under the layers of heavy synthesized strings, chimes and distant, subdued brass, yet once again the angelic vocals soar and give life to a seemingly dead world. "Signum Iudicii" allows the vocals to really shine, again in much the same style of related artists in the genre, as the music really drops back into the background a bit more, at least at first and again at various times throughout the album as it becomes true acapella for a while. "Sigillum Septimum" again remains dark and brooding as the title implies "the seventh seal", invoking a forboding feeling of anticipation. This leads us to our somber and dark finale "Angelum Abyssi" which starts off much the way the album began with the distant, heavy and dark percussion and a variety of various instruments subtly woven together with the harmonized vocals for a dark, yet magnificent tapestry. The press release and album information speak of a feeling of hopelessness this concept album represents, while that is the case in many aspects, it's a true masterpiece in portraying many of the moods and feelings of the text and in it's own way there are definitely beautiful facets to the album across each track. For fans of various dark ambient, dark folk, neoclassical and medieval music, this is a true treasure for your collection.

Rating: 4.5/5
[BACK]