REVIEW: ATRIUM ANIMAE - DIES IRAE
MYSTERIOUS AND BEGUILING HEAVENLY VOICES IN ORCHESTRAL SOLITUDE
Mick Mercer [MAY 2011]

2011 | MAY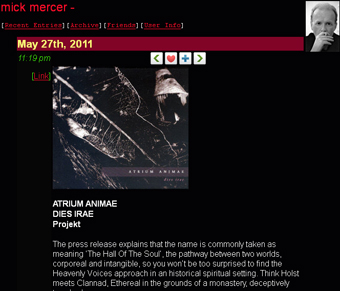 | View on Mick Mercer's Journal
| View on Mick Mercer's Facebook Page
Mick Mercer is the longest-running Goth and Post-Punk writer in the world.
From Wikipedia:
Mick Mercer is a journalist and author best known for his photos and reviews of the goth, punk, and indie music scenes.
He has photographed the bands Tragic Venus and Blondie in the UK and Europe.
He publishes a monthly online magazine called "The Mick". Mercer ran one of the first punk fanzines, Panache from 1976 to 1992. In 1978 he began writing for British music magazine ZigZag, later becoming Editor until the magazine folded in 1986.
During the 80s he wrote regularly for the British music weekly Melody Maker and in the 90's found himself editing magazines including the Siren which has itself since folded. Since then he has had numerous books about Goth and related subjects published..
Atrium Animae: 'Dies Irae' - CD Review
by Mick Mercer
The press release explains that the name is commonly taken as meaning "The Hall Of The Soul", the pathway between two worlds, corporeal and intangible, so you won't be too surprised to find the Heavenly Voices approach in an historical spiritual setting. Think Holst meets Clannad, Ethereal in the grounds of a monastery, deceptively tweaked.

There are only seven tracks, but weighing in at 44 minutes, and all the work of Alessia Cicala and Massimiliano Picconi, with added vocals from Paolo Meloni and Barbara Cicala.
They ease you in with the relatively short "Psalmus 57", distant percussion, stealth synth invoking doomy brass and holistic vocals that are, apparently, indulging in 'complex polyphonic parts.' I always suspected as such! It's dreamy, yet ominous, nothing too harsh. You can pitch this anywhere between the more troubled, introverted touches Ataraxia can exhibit or the streamlined heartfelt pomp of Gae Bolg, with a rich but sparse orchestral spine, around which the vocals are wound.
"Rex Gloriae" seeps and meeps, more ghostly than ghastly, as the atmosphere isn't created to drag you into a dark hole.
Indeed, "Psalmus 87" billows softly, graciously enfolding the listener, while "Lacrimosa Dies" mooches spookily, like Kate Bush holidaying on Mars.
That's the easy part, then the record starts to strengthen its grip.

"Signum Iudicii" is uber churchy, the vocal concoction like a dusty meringue bobbing on a puddle of tears, "Sigillum Septimum" emerges from an ambient mist, spectral shivers a speciality, gradually warming and opening out serenely as their most stylish composition.
"Angelum Abyssi" is also interesting, build out of the ether with more distant drums and slowly encroaching horns and a hazy vocal presence. The drums and brass gently shimmer in a positive way and vocals stretch out over the sounds, enigmatic but enticing. There is another slight pause and the vocals burn brighter as the sounds fall back, and apart. Then again but with a boomier surge, chimes and vocals gathering in such a way that when it ends it feels like your entire room has been threatened but then cleansed.

It seems simple enough, and will be close to what you may expect but the beauty of it is…well, the beauty of it, and the way it's like the Tardis, far bigger on the inside.
[BACK]