REVIEW: ATRIUM ANIMAE - DIES IRAE
MUSICTAP [JUNE 2011]

2011 | JUNE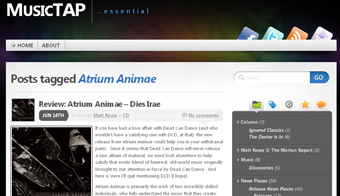 Atrium Animae: 'Dies Irae' - CD Review
by Matt Rowe
If you have had a love affair with Dead Can Dance (and who wouldn't have a satisfying one with DCD, at that), the new release from Atrium Animae could help you in your withdrawal pains. Since it seems that Dead Can Dance will never release a new album of material, we must look elsewhere to help satisfy that exotic blend of funereal, old-world music originally brought to our attention in force by Dead Can Dance. And here is were I'll quit mentioning DCD (I hope).
Atrium Animae is primarily the work of two incredibly skilled individuals, who fully understand the music that they create. Notably, it is one thing to be appreciative of a style. That appreciation shows up in bands that attempt to create in that vein of style.
However, it is quite another thing to be so well-versed in that style that one (or, in this case, two) can be mentioned as an inherent part of the music being crafted. Atrium Animae is the real thing.
This latest release from Atrium Animae begins with the opening "Psalmus 57″, a brooding vocal piece that approaches a reverence with its heavy attention on vocal work, beautifully supplied by the conservatory-trained soprano, Alessia Cicala.
That opener track is followed by the gorgeous, monastic combining of male vocal (Paolo Meloni) with the lovely, catholic vocals of our female singer in a worshipful "Rex Gloriae", a work not unlike film music.
The album follows a similar course throughout its seven contemplative tracks. In short, Dies Irae, while not for everyone, is a beautiful album of complexity that can appeal to the most adventurous of music-lovers.
Folks, if the deep, catholic-born, gothic-flavored music found on Dies Irae is to your liking, then shift your attention completely to Atrium Animae.
If they ever find themselves progressing beyond the music heard on this release, music from different periods that aren't gothically infused, or even challenging themselves with music from other cultures, then Atrium Animae may just become our new infatuation.
The talent is there, the ability is there.
I'm keeping my ears open to Atrium Animae. If you're musically adventurous (and enjoyed DCD), then I suggest you do the same.
[BACK]