REVIEW: ATRIUM ANIMAE - DIES IRAE
SIDE-LINE MAGAZINE [AUGUST 2011]

2011 | AUGUST
RATING: 8/9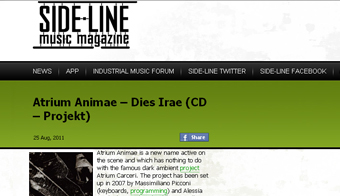 Started in 1989 as a print magazine, Side-Line soon became the leading magazine in its genre.
In 1999 they also went online to provide a daily service. Since 2004 they are only active online, reaching 65.000 music fans per day.
Side-Line is a daily updated news site on gothic, electro and industrial music, reaching 65.000 music fans per day.
Atrium Animae: 'Dies Irae' - CD Review
by DP
Atrium Animae is a new name active on the scene and which has nothing to do with the famous dark ambient project Atrium Carceri.
The project has been set up in 2007 by Massimiliano Picconi (keyboards, programming) and Alessia Cicala (soprano).
Behind "Dies Irae" hides a concept about the analysis of the human condition and its relationship with God.
Atrium Animae brings this concept in two separated parts.
I can't remember to have ever heard a 'darker' release on Projekt, which is more devoted to different forms of 'wave' music, cabaret, and ethereal ao.
Atrium Animae mixes elements of ethereal, neo-classic, but especially ritual music.
We feel like we are watching an imaginary sacred rite.
The classically trained soprano voice of Alessia Cicala perfectly fits to this poignant atmosphere. She appears to be the Goddess of the rite and one of the main forces of her project. She's really carrying several songs, "Sigillum Septimum" being one of the most noticeable parts.
But "Dies Irae" is from a pure musical point of view still surprising. Music and vocals together are in perfect balance with each other.
"Psalmus 57" opening the CD is a well-crafted piece of mysterious darkness.
The darkness moves into pure torment on "Rex Gloriae" while reaching a sacred state on "Psalmus 87". The last mentioned track is a kind of sonic requiem.
Probably the most poignant track is "Signum Iudicii". The ritual character of the sound is absolutely gorgeous.
A kind of sacred chant is accentuating the ritual mood of the composition. This track strongly appeals for imaginary vision of cold and wet crypts, being the epicenter of ancestral rites.
The last cut "Angelum Abyssi" sounds like a move to dark ambient music. A few drones are like accentuating the dark and oppressive touch of this track.

"Dies Irae" is a terrific debut CD maybe revealing the latest sensation from Italy.

(DP:8/9)DP
[BACK]