REVIEW: ATRIUM ANIMAE - DIES IRAE
TERRORIZER MAGAZINE
[#214 - SEPTEMBER 2011]
2011 | SEPTEMBER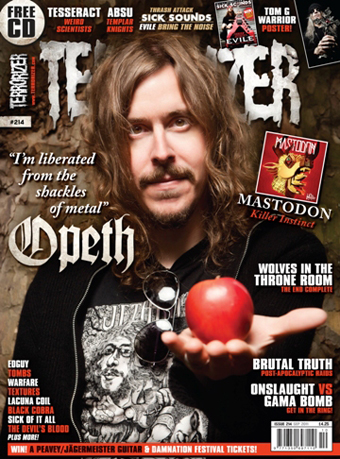 Terrorizer is the world's most authoritative extreme music magazine since 1993.
British radio John Peel, revealed himself to be a fan of the magazine in an episode of 'Home Truths' on BBC Radio 4. "...I took several copies of a music magazine called 'Terrorizer' out of my luggage before leaving for New Zealand via Los Angeles in 2002 and given the hostility of the officials we encountered in California I'd say we did the right thing...".
Atrium Animae: 'Dies Irae' - CD Review
by Miranda Yardley
Four years in the making, "Dies Irae" (Day of Wrath) is essentially a vocal work with minimal strings and percussion.
Here, there is no hope, only loss and despair, and the overall effect is soporific; optimistic is elusive, its glimmer a momentary white rabbit in a hole of blackness.
Such spiritual neoclassical pieces are ever changelling to evaluate; to assess in the context of contemporary popular music appears trite (Dead Can Dance?), to place in the context of , e.g., Janàcék or Tallis, seems unfair.
Notwithstanding, "Dies Irae" functions well as a cohesive whole; Alessia Cicala's vocals could teach the current plague of simphonic metal bands much, however this piece's monochromatic nature makes this beautiful music (unjustifiably) easy to consign to the background.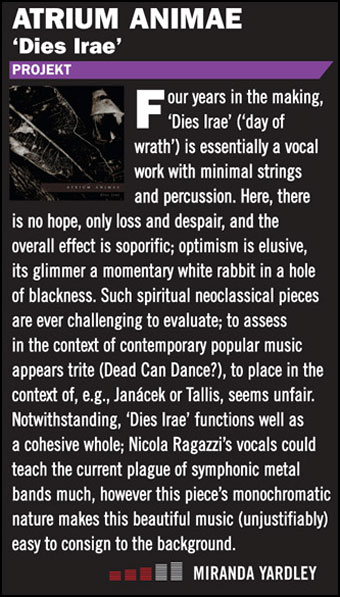 [BACK]