REVIEW: ATRIUM ANIMAE - DIES IRAE
THE MORTON REPORT [JUNE 2011]
2011 | JUNE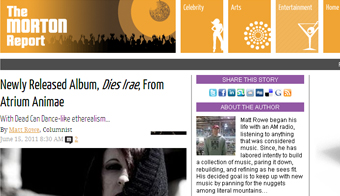 Andrew David Morton is a former British Fleet Street journalist, a notable writer and biographer.
He wrote a biography of Princess Diana called "Diana: Her True Story". Following Diana's death in 1997, Morton issued an edition entitled "Diana: Her True Story, Commemorative Edition".
He achieved greater prominence in the United States after the publication of "Monica's Story", a biography of Monica Lewinsky, and "Tom Cruise: An Unauthorized Biography".
Morton was commissioned to write a book to coincide with the much anticipated royal wedding between Prince William and Catherine Middleton.
To coincide with the massive publicity and excitement of the event, Morton announced the official launch of his new website, TheMortonReport.com.
Actually, it is a daily updated entertainment website devoted to celebrities, popular culture and swanky living.
Atrium Animae: 'Dies Irae' - CD Review
by Matt Rowe
If you remember the gorgeous, brave, old world and another culture musical compositions of Dead Can Dance, then you remember how fixated you were on the combined talents of Brendan Perry and otherworldly vocalist Lisa Gerrard. Understood.
Together, they crafted some of the most intriguing songs ever to be adopted by a hungry audience of music lovers, the largest ever for the kind of music Dead Can Dance produced.
Funereal and gothically-tinged, Dead Can Dance opened the pipe for tolerance of a new kind of music. Because they willingly approached music from a cultural standpoint, recreating until they found a common ground between the new music fan and those that are inured to the kind of underlying musical qualities found in classical works, they found a steadfast audience. In turn, they set the path for other bands.
Atrium Animae is an Italian duo, formed to express the kind of music that early-era Dead Can Dance embraced. The male component of Atrium Animae, Massimmiliano Picconi, is the keyboardist and master of the programming aspects supplied to the album. The stunning, layered female vocal work is the work of Alessia Cicala. Alessia Cicala was vocally trained in Conservatoire, and brings her haunting operatic soprano to the newly released Dies Irae (June 14 via Projekt Records).
Dies Irae contains seven tracks of intensity, musically characterized by ancient Catholic religious rites often heard in films depicting such rites.
The music explores authenticity in every corner of its dark and apocalyptic airs of foreboding wrath. The lyrics, drawn from antiquity, add an otherworldly quality.
There is little to compare the grand content of Dies Irae to other than the potential comparison of Within The Realm Of A Dying Sun (1987) from Dead Can Dance, as well as choice selections of other tunes from various early DCD albums.
Suffice it to say that Dies Irae is a meticulous exercise in a world completely unlike our present one.
The music heard on Dies Irae is not for everyone. It might not even be for you. But if you listened admiringly to anything by the greatly missed Dead Can Dance, then you'll find something to appreciate here in this bold, new album by a band that insists on being who they are.
The goal here is to put up a new signpost leading to a new discovery for you.
Hopefully, you'll be intrigued.
[BACK]